Queensgate Shopping Centre Temporary Bus Station Redirection – Q&A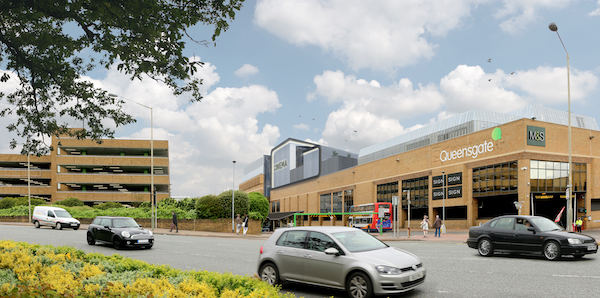 Why is part of the bus station relocating?
A: Queensgate Shopping Centre is building a brand new £60m extension that will include a 10 screen Empire cinema and restaurants. The cinema will be located on top of the relinquished space created by the newly refurbished £21m John Lewis & Partners and the restaurants and retail on the opposing roof. These large structures require regular access to the roof from the ground, therefore, it is necessary to close part of the Bus Station temporarily and move some services to a nearby location.
When will it relocate?
The East side of the bus station, which will close late in the evening of Sunday 8 March and the last service will be the 24.35 for Park Farm (the station will close following this departure at approx.. 1am on Monday 9 March) and be replaced by Acland Street temporary bus station from Monday 9 March.
Which services are affected?
The East side of the bus station, which will be closed and replaced by Acland Street temporary bus station will house services 4, 6, Busway B, 23, 24, 31, 33, 36, 37, 46, 60, 61, 62 and 63.
The West side of the bus station will remain open for services 1, 2, 3, and 5.
Where will my bus stop be?
The temporary bus station will be located on Acland Street, which is approximately a 4-minute walk from the current bus station and to Queensgate Shopping Centre.
Will this change the timings of my bus?
No. The current bus times and services will not change at all.
Will I have to walk across any roads?
For those using any of the services that require the use of the temporary bus station on Acland Street and wish to return to Queensgate Shopping Centre, you will have to cross Westgate. We have agreed to install a temporary traffic light crossing to allow safe passage throughout this entire period.
Additional CCTV, street lighting and shelters will also be installed for passenger's assurance.
When are the cinema and restaurants opening?
It is estimated that cinema and restaurants will be open by Autumn 2021, which will see our centre hours increase to accommodate for these new services.
Will there be free parking for cinema goers?
We envisage a concessionary rate will apply for people using the cinema facilities, but exact details will be revealed nearer the time.
Where can I contact you?
If you have any concerns or would like to discuss the development, please email us at: management@queensgatecm.co.uk