Queensgate's £60m Cinema-led Extension Takes a Step Closer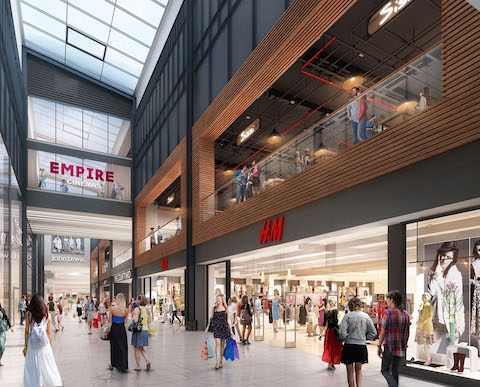 The £60m extension to Queensgate, which will see a 10-screen Empire cinema, new restaurants and stores open, has taken a big step to move the project forward.
This week, Queensgate Shopping Centre has applied to temporarily close bays 10a to 20 of the Bus Station in early 2020 to create a safe space to construct the cinema and new restaurants, which will be built on top of the existing shopping centre. The creation of the extension is due to complete ahead of Christmas 2021 and during this period there will be increased activity with cranes, heavy plant and construction personnel working to complete the exciting development.
In early 2020, bays 10a to 20 of the Bus Station is scheduled to temporarily close, and substitute bus bays will open 150 metres away (approximately a four-minute walk) on Acland Street, behind the Brewery Tap.
This change will affect some Stagecoach and National Express services which will come in and leave the temporary bus station over an 18-month period. A comprehensive list is currently being drawn up, but the vast majority of the current bus station will remain unaffected and services will drop-off and pick-up as normal.
Peterborough City Council, Stagecoach and Queensgate Shopping Centre have been working in partnership to ensure this temporary provision causes as little disruption as possible, and to ensure customers are fully informed. Discussions are also underway with other bus service operators, such as Delaine and First, to further minimise the affect on passengers.
Queensgate's Project Team has already engaged with several local stakeholder groups, including the Disability Peterborough and Peterborough Pensioners Association and will be presenting at the Dignity in Old Age Forum in October.
The temporary bus station on Acland Street will have clear signs to direct people to and from the current bus station, a safe crossing route on Westgate Road, additional CCTV and lighting as well as a weatherproof bus shelter.
Pop-up displays and Q&A sessions will be advertised for people to visit and meet the teams behind the project to help answer any questions. Leaflets, digital advertising, marketing, social media and a press campaign will help to communicate the temporary changes to the bus station users.
"We want to make the temporary bus station redirection as seamless as possible for the bus and coach user, whether you're new to Peterborough or a regular visitor to the centre," said Centre Director at Queensgate, Mark Broadhead. He adds: "Every provision has been addressed and we have a comprehensive plan in place to make sure the journey to the city centre is clearly communicated.
"We know people in Peterborough have been waiting in anticipation for the Cinema to come to the city centre, and now it is. This is an extremely exciting time for us all and, although we expect a small amount of disruption, the final result will be well worth it."
A Stagecoach spokesman/woman said: "We have been working closely with council officials and the developers to ensure this essential building work goes ahead with minimal disruption.
"As always, the safety of our passengers is of paramount importance and, for that reason, the east side lane of the bus station will have to be temporarily closed but we are committed to ensuring our customers are fully informed about any changes to our usual services.
"This is an exciting time for the city, its residents and visitors and we are pleased to have been able to play a part in helping to shape the future.
Councillor Peter Hiller, cabinet member for strategic planning, commercial strategy and investment at Peterborough City Council, said: "The extension to Queensgate, including a new 10-screen cinema will be a great asset for our city and its nightlife. At a time when other city centres are struggling, Peterborough is bucking the trend. It will mean more footfall for retailers, more things to do for visitors and more jobs and retail opportunities for residents.
"Like all developments of this scale, it will take time to build and will cause temporary disruption, particularly for bus users. However, this scale of investment can only be good for our city and for those who live, work and relax in it."
To coincide with the creation of the Empire cinema and new restaurants, John Lewis & Partners is undertaking a £21m investment in its Queensgate store. The refurbishment includes an overhaul and reconfiguration of the entire shop with improvements being made to all departments alongside the addition of exciting new features.Floors are opening over several phases with the full launch earmarked for February 2020.
A questions and answers page about the bus station redirection has been created and can be found at www.queensgate-shopping.co.uk under the 'news' section and can also be collected in hard copy form from the Customer Information Desk.
Temporary Bus Station relocation services.
Further information about the opening will be released soon.