Toilets
Toilets are located at:
Car Park Level 1
Bus Station
M&S
McDonalds
Boots
Burger King
Disabled access is also available in all of the above locations.
Free Wi-Fi
Enjoy free Wi-Fi at Queensgate. Just select The Cloud from the network list in your phone, laptop or tablet settings, and follow the simple on-screen instructions to register. Then you're free to browse the web as you browse all of our fantastic stores!
We recommend downloading the free Fastconnect app for a seamless, uninterrupted connection. It's available for both iOS and Android devices through the following links:
Download Fastconnect for iPhone here
Download Fastconnect for Android here
Parent & Baby Facilities
We have dedicated parent and baby facilities located at Car Park Level 1 which are regularly maintained and cleaned to provide our customers with children comfort and privacy. To assist in taking care of your little ones you will find a chair for feeding, a child's chair, baby change unit, bottle warmer and microwave.
Alternative facilities are located in the following stores:
Queensgate Shopping Centre welcomes breastfeeding throughout the centre.
Parent & Baby Changing Facilities
Facilities are located at:
Car Park Level 1
M&S
McDonalds
Little Miracles
Sensory Room - re-opening
We are happy to announce that We re-opening Little Miracles "Sensory Room" Friday 6th May 2022.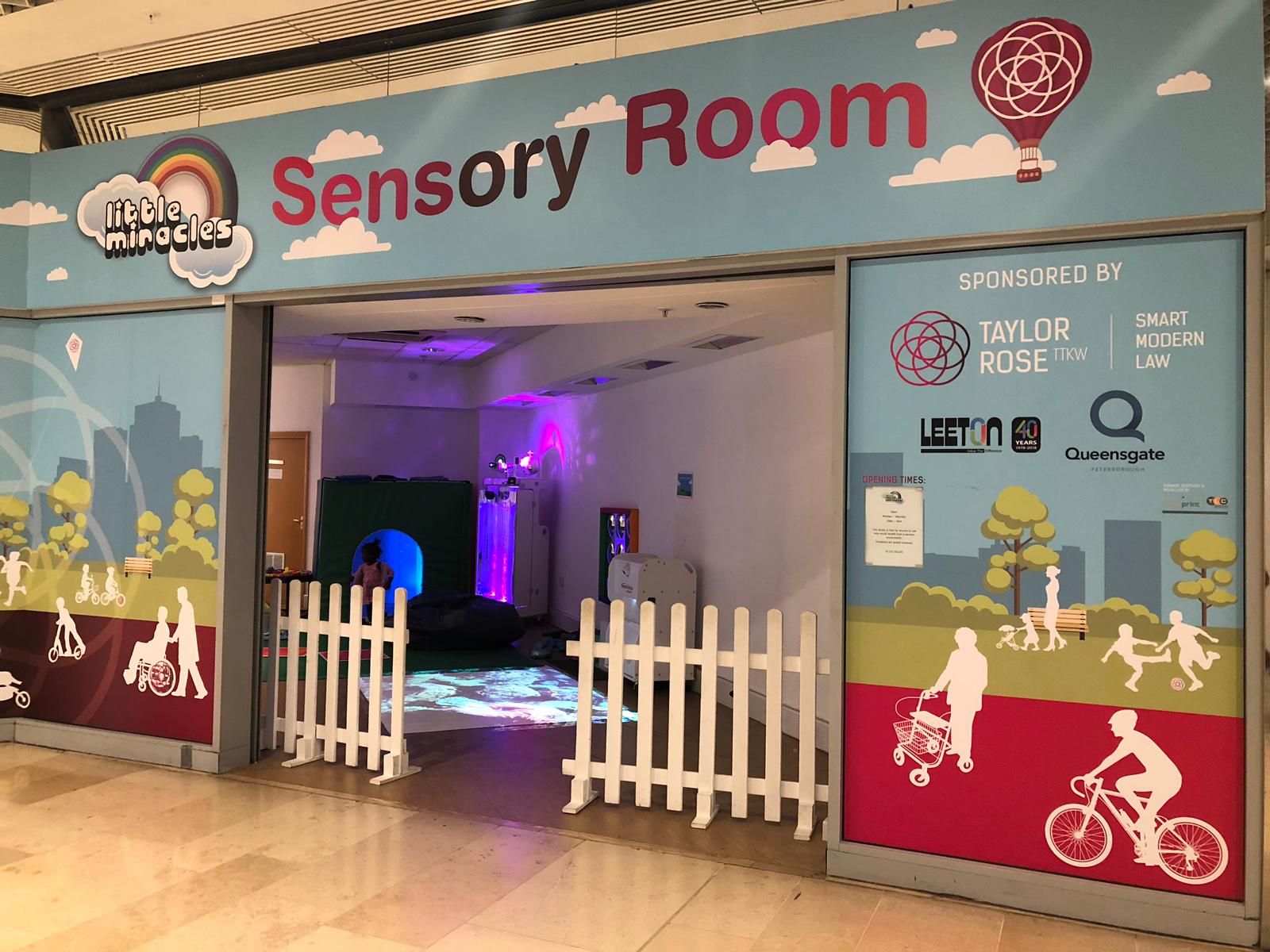 Shopmobility Opening Times
Mondays, Tuesday, Thursday and Fridays 10.30am – 3pm
Please note Shopmobility will be closed on weekends until further notice.
Shopmobility – Arriving By Car
Our Shopmobility office is on Level 11 of the Green car park and is easy to get to. The best places to park are:
Blue (Cavell) Level 5
Red (Royce) Levels 5 and 11
Green (Clare) Levels 5 and 11
There are spaces for blue badge holders and lift access on all of these levels. We'd recommend avoiding parking in Yellow (Perkins) as you'll need to use a footbridge to get to Queensgate.
Shopmobility – Arriving by Taxi
Most local taxi companies will park and accompany you to the Shopmobility office. Just ask for help when you book your taxi.
Shopmobility – Arriving by Bus
Peterborough's main bus station is between our car parks and the shopping centre itself. To get to our Shopmobility office from the bus station, take the escalators or lift up in to the centre, then take one of the car park lifts to Level 11. Because this involves a short walk, please call our office and we'll arrange to meet you at the bus station.
Shopmobility Volunteers
Our Shopmobility service relies on volunteers – and if you'd like to help in any way, we'd love to hear from you. Please call our Shopmobility coordinator on 01733 313 133.
Car Valeting
ICC is passionate about Car Cleaning and aims to exceed its customers' expectations at all times.
With over 20 years of experience in the Car Wash & Valeting business, we are acutely aware or our corporate responsibility to the environment, as such we use environmentally friendly car detergents and washing materials.
Whether it's a simple car wash or a complete valet service, ICC customers are assured of the highest level of service.
Drop in to our valeting centres (located in the Red Car park) and discover the difference.
To view our price menu, please click here.
Electric Charging
There are six electric vehicle (EV) car charging points, located in the Green car park. We also have EV charging bays in the blue car park. The charging stations are free to use. Designed to be easy to use, the charging points allow green-minded shoppers to plug their vehicles in to recharge, leaving them free to shop.
Simply enter the Green car park as normal and park in one of the dedicated EV charging bays, which can be found on level three.
Plug your car into one of the six available chargers, type 2 socket European Standard 7 pins – each outlet is single phase 32A fast charging, and follow the instructions given, activating the charge from the Evolt Multipoint terminal.
Once ready to leave the shopping centre, shoppers just pay for their parking and disconnect from the term
ChargeBox
To give our visitors a stress free shopping experience within our centre, Queensgate provides a phone charging facility, ideal for when your battery goes flat at the most inconvenient of times.
Our ChargeBox station allows you to charge your phones for free and safely, whilst enjoying 30 minutes extra shopping time!
Our ChargeBox station is easy to use with instructions displayed on an interactive touch screen; simply plug in, lock and go – it's as easy as that.
Located in the vending hub on the Upper Mall (near our car park lifts, cash machines and Millies Cookies) and by the Queen Street exit near Primark.
Lost Property
If you lose something when you're at Queensgate, contact our Management Office which keeps details of lost and found items.
Contact the stores you visited too, as some of them also hold lost property.
You can contact our Management Office by phone on 01733 311666 (then press option 3) or by email at customerservice@queensgatecm.co.uk
You can normally only claim items during office hours. We only hold the items we find for six weeks, and perishable items are kept for one day.
If you lose your bank or credit cards, first contact your bank to the cancel cards, then let the police know.
Door-To-Door Transport
If you can't use public transport, you can come straight to Queensgate with the help of Peterborough City Council's Community Link's door-to-door service.
For bookings and more information, please contact 01733 317460 or email: childrenstransport@peterborough.gov.uk