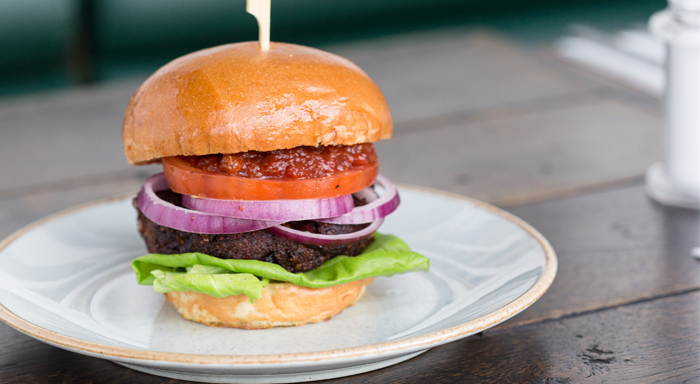 Eating Vegan at Queensgate
With an increasing number of people switching to a plant-based diet, more and more cafes and restaurants are expanding their menus to include vegan food and drink options. It might have once been a struggle to find a vegan meal when out shopping, but there is now a variety of plant-based delicacies to choose from. Many of the eateries at Queensgate provide great tasting vegan food, making it the perfect place to try out a range of exciting dishes.
Whether you are a committed vegan or interested in eating a more plant-based diet, the following guide will help you choose where to eat or drink on your next trip to Queensgate.
When Polly Met Fergie is a 100% plant-based cafe and restaurant, perfect for both fulltime vegans and those who just love amazing food. For your main course, choose from a variety of fresh pasta dishes including Mushroom – a pasta sauce of woodland mushroom-infused lemon oil and cream. If you're in need of some comfort food, opt for Southern Fried Seitan – this meat substitute is deliciously seasoned, served with slaw and either chips or Mac & Cheese. There are also several vegan burgers and other healthy options on this wholly vegan menu. Any one of the starters and sides would make the perfect accompaniment to your meal.
At Handmade Burger Co, vegans have several burger options to choose from. Their Veg-Mex is described as a veggie patty served with handmade Mexican salsa, hand crushed avocado, jalapeños, lettuce, tomato and red onion. Other plant-based burgers on offer include the Thai Vegetable – a Thai vegetable patty served with grilled peppers, sweet chilli sauce, red onion & rocket.
With vegan options clearly marked on their menu, Turtle Bay is another great restaurant option. For your main course, choose any of their vegan curries or go for their Doubles dish – two 'puffed up' bara roti flatbreads with curried chickpeas, cucumber chutney, and hot sauce. For dessert, treat yourself to a salted caramel baked pie, served warm with chocolate ice cream.
Pret a Manger have a wide range of freshly made plant-based options including soups, sandwiches, baguettes, wraps and salads.  As the sandwich shop has monthly specials, some options are only available for limited times.
Along with their newly famous vegan sausage roll, Greggs serves a bean wrap and a vegan-friendly Belgian Bun.
Head to Auntie Anne's for vegan pretzels – as food is freshly prepared in-store, their pretzels can easily be made dairy-free.
Having recently launched a fully vegan Plant Kitchen range, and with new products continually being added, there are lots of takeaway options to choose from at Marks & Spencer.
When made with plant-milk, the teas and coffees available at Costa are suitable for vegans. A plant-based wrap or vegan caramel cookie may also be on offer. Hotel Chocolat sell a range of vegan dark chocolate products for those with a sweet tooth.
Depending on what is on offer on the day, it might also be possible to find a vegan meal in John Lewis' restaurant. If you're fast enough, you might instead be able to grab a vegan sandwich from Boots.
McDonald's offers a vegan breaded goujon wrap, a vegan Happy Meal and French fries. Vegans also have the option of Hash Browns and small bags of fruit. When chosen from the condiment counter, the BBQ Dip is also vegan. It's a similar situation at Burger King – you should be able to order fries cooked only in vegetable-oil.
When ordering food and drink at any of the restaurants, cafes and shops at Queensgate, we recommend that you specify to staff that you are vegan. Doing so will help to avoid any confusion. It's also best to talk to staff if you suffer from any allergies as a number of these eateries make their food in store.
We expect that the businesses listed here will continue to put time and energy into developing vegan recipes, so it's likely that menus will alter as new options are added. If you want to find the most up to date information, it's a good idea to check the official website of the restaurant or cafe you are interested in eating at.
By Freya Partridge