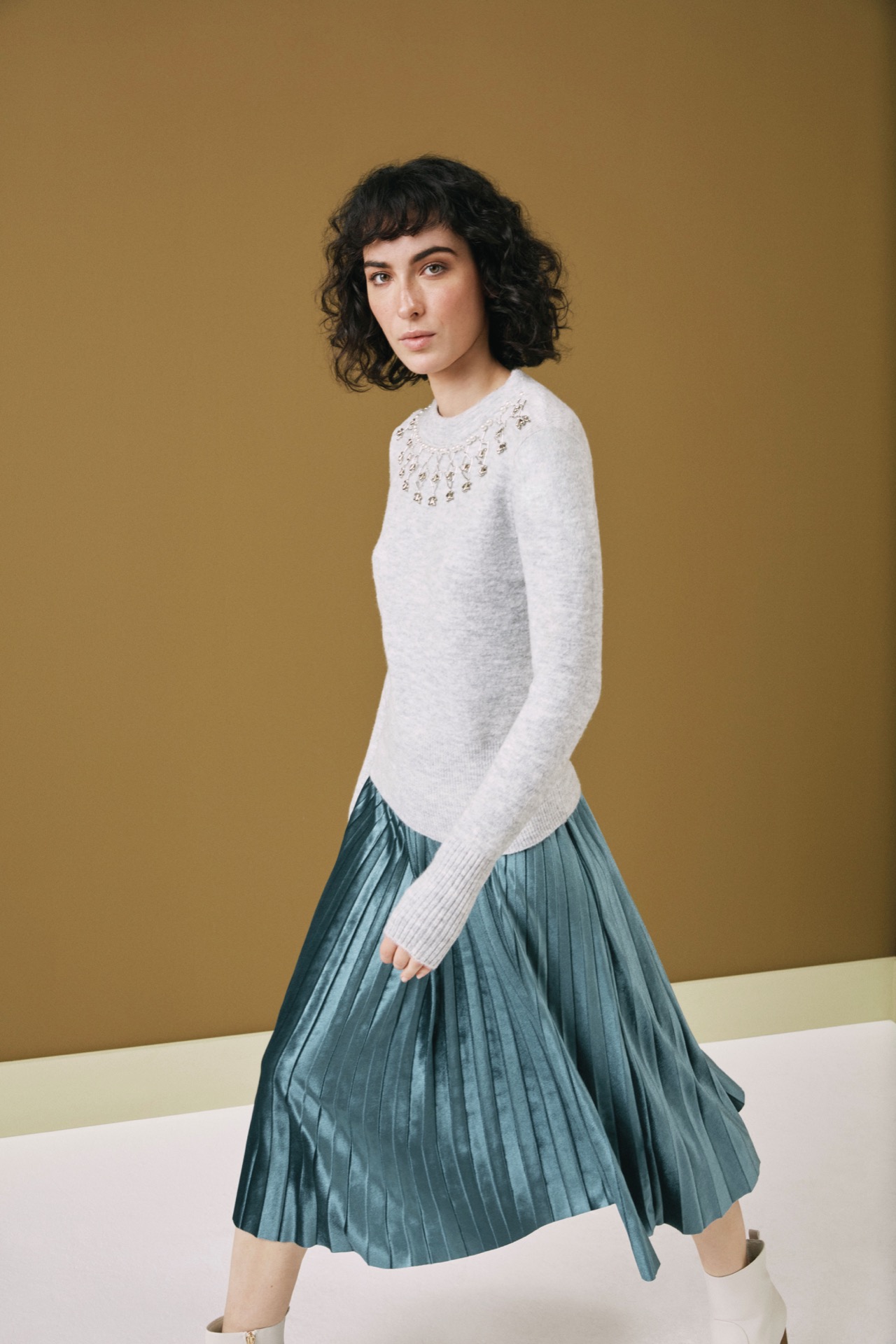 Shine Language
With the festive season just around the corner, event invitations are set to land imminently which can only mean one thing – the 'what to wear?!' panic is coming! But fear not, as we've road tested two of the hottest trends of the season and are sharing how to make them work for you.
Whether Christmas is the perfect opportunity to turn yourself into a human glitter ball or if your style is more of a low-key vibe, this guide to buying purse-friendly but hardworking items will see you through to the New Year and beyond.
Heavy metals
Metallics are a failsafe way of looking like you've dropped a ton of cash, when you really haven't. Gold is always super glam, rich shades like burgundy, plum and forest green ooze luxury and icy silver and blue are instant head-turners.
 A pleated skirt or dress is an absolute wardrobe hero, as they suit all body shapes and are made for swishing around in. Midi-length versions are incredibly flattering, so we'd highly recommend one for the party circuit.
Suits are also a big deal this season, with the cost per wear also being a very attractive perk. Wear as a two-piece ensemble, or rock your best jeans with a belted jacket worn a strappy cami or if you're feeling a little more daring, just bare skin underneath.
Style the trousers with soft and fluffy knitwear for an interesting texture mash up. Just add drop earrings, heels and tuck a clutch bag under your arm for effortless sophistication.
Glitter a little
Sequins are in all shapes and sizes this season and are such fun to wear. They work for absolutely any occasion, so need to save them for best. Off to a daytime do? A sparkly top and denim combo will never let you down, nor will a dazzling slip dress layered over a t-shirt and finished with ankle boots and a snuggly coat.
For our fearless fashion friends out there, how about a pair of sequin trousers for a showstopping look? They are surprisingly chic and will look magic with a top and blazer in a similar tone. Accessorise with lashing of confidence.
If you'd prefer to just dip your toe in the trend, there's an amazing selection of fab bags, footwear, jewellery and much more available from the retailers at Queensgate. Now off you go and let your outfit do the talking!